In the United States, the three main shipping couriers are FedEx, UPS, and the United States Postal Service (USPS). FedEx and UPS are publicly held companies (NYSE: FDX and UPS), while USPS is managed by the federal government and subsidized heavily.
Each of these couriers has its strengths and weaknesses, but what many people don't realize is that these three companies aren't their only options for shipping scientific and manufacturing equipment.
In many cases, using an alternative shipping method can be more reliable and less expensive than shipping with a traditional courier. Most importantly, these smaller, lesser-known options are often better for safely shipping fragile equipment.
This guide will present alternatives to the "Big Three" shippers in the United States and suggest the situations for which each solution is best.
1. DHL
DHL is a German company that has expanded to over 220 countries worldwide, including the United States. DHL has actually expanded to more countries than FedEx and UPS, and it is more commonly used in other countries.
While not very different than the major three US shipping companies, it is not one of them. DHL is not commonly used within the United States because DHL's rates are typically higher for domestic shipping.
However, DHL does offer competitive international shipping rates, as well as relatively reliable tracking features. And if you're eligible for a bulk rate internationally, DHL will lower your domestic shipping rates, too.
2. Regional Courier Services
If you are shipping within a certain area of the contiguous United States, you have the potential to save a lot of time and money by shipping with a regional courier.
A regional courier operates solely within several closely connected states. For example, the company LaserShip delivers parcels along the East Coast.
These companies won't ship your package anywhere you want, but they excel in the states they serve. These are some of the major regional couriers:
Dicom
Pitt Ohio
Spee Dee Delivery
On-Trac
LSO (Lone Star Overnight)
LaserShip
GSO
Hackbarth
United Delivery Service
US Cargo
And here's an infographic of their coverage areas: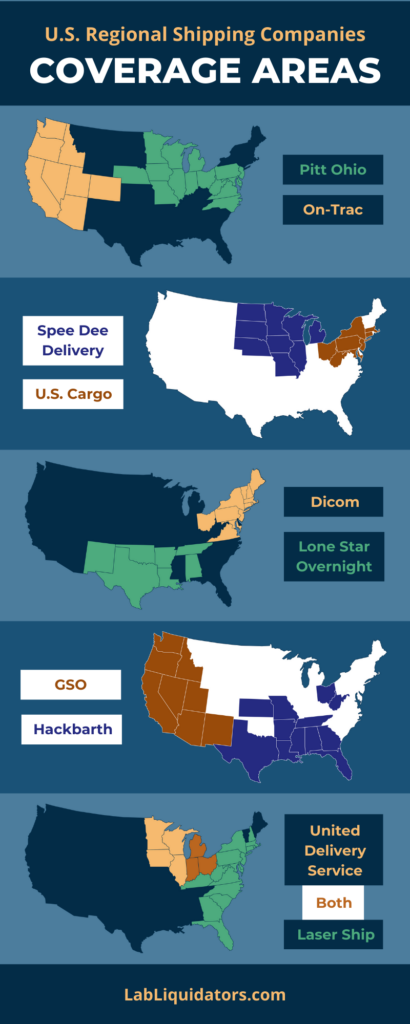 3. Roadie (or a similar service)
Roadie is "an on-the-way delivery service that connects people with stuff to send to drivers already heading that way."
Essentially, Roadie is Uber for packages. Prioritizing personal care and delivery, all of its workers are ordinary people who are traveling from one place to another and are willing to go slightly out of their way to deliver a package.
This individualized delivery model is ideal for transporting fragile equipment. When you use a traditional shipping courier, you're entering your package into a massive distribution system that might involve dozens of workers tossing it from truck to truck. While learning to pack fragile items correctly can help, you never know what exactly what your equipment will be subjected to.
But with Roadie, a single person is responsible for your equipment from pick-up to drop-off. You can meet your driver face-to-face and clearly communicate instructions for handling your equipment.
Of course, this service comes at a higher cost. An estimate from Roadie's website shows that a package that fits in the front seat of a car can be shipped from California to Georgia for about $500.
This is more expensive than shipping with a Big Three company, but it's reasonable when compared with a moving company that would handle the shipment with a similar level of care. Your next best option would be white glove furniture movers.
Another advantage is Roadie's flexibility in covering both short and long distances. Many companies use Roadie for inexpensive same-day shipping within large cities.
4. Deliver It Yourself
This is obviously not a popular option because it demands a significant amount of time and resources, but many companies who sell large, high-value equipment deliver the equipment using their own trucks, logistics teams, and technicians.
This option eliminates the risk of another company damaging your goods before they reach their destination. If you're selling equipment, personal delivery also allows you to leave a fantastic impression with customers and train them how to use the equipment immediately.
Determining whether your business should deliver all of its own equipment is difficult to calculate, because it depends on the average delivery distance, the average item damage cost, and the differential between packaging costs of personal shipments versus a shipping courier. You also need to consider how much customers will value personal delivery.
But if the equipment is especially fragile, the break-even for personal delivery could be as low as $5,000. During our time in business, we have usually transported using our own resources if the equipment is too large to ship without a crate and the customer is within nearby states.
Which Alternative Is Best?
The value of each alternative for you or your company depends on your individual shipping needs. But in general, each option is ideal for these situations:
DHL: For foreign and international shipping
Regional Courier: For local and regional deliveries
Roadie: For fragile items and same-day, same-city delivery
Deliver it yourself: For extremely fragile, or valuable items